Human Resource Advantage (HRA) is a consumer-reporting agency, functioning as a pre-employment background screening company.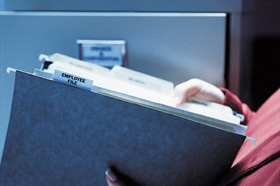 Every day we strive to maintain a company where relationships, flexibility, accuracy and professionalism are paramount.
We have created and maintained a company that employers and H.R. professionals regard as reliant and where our representatives work to provide the ultimate customer service.
HRA opened in 1997 in Northern California and is a family owned business.
The owners and staff have a combined 20 years of experience in human resources, law enforcement and pre-employment background investigations.
The HRA client list includes small and large companies in a variety of industries such as medical, manufacturing, communications, agriculture, and distribution.
Our Mission
To provide employers cost effective, reliable, trustworthy information and resources necessary for making informed, professional employment decisions while focusing on expediency and accuracy.